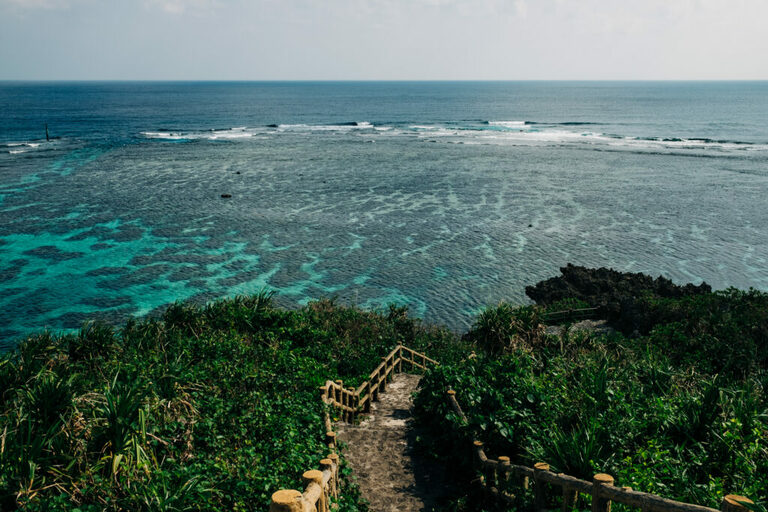 After living in Japan for almost two years, we FINALLY made it down to the much adored, tropical islands of Okinawa. I had trawled endless travel blogs, visitor guides and photo journals of this part of the world, and was certainly not disappointed when we experienced this haven for ourselves! (I think I visited Ippei & Janine's website at least a thousand times – do yourself a favour and check out their wealth of info, not to mention stunning photographs!!)

What probably surprised us most was the diversity of the landscapes here. While we anticipated white sandy beaches and tropical juice stands, we didn't so much expect such dense and stunning rainforests, endless rivers and mangroves, nor being able to kayak for hours without seeing another soul. This is truly a place we will never forget!

We decided to spend the bulk of our time in Miyakojima, as well as Ishigaki-jima and Iriomote-jima of the Yaeyama Islands (If you haven't figured out by now, jima (or shima!) means 'island' in Japanese).

Miyakojima is said to have some of the most beautiful beaches in Japan, and therefore is a popular spot for those on a snorkelling or diving trip. The coral reefs in this region, as well as the Yaeyama Islands, are considered to be some of the best in the world!
Although still in Japan, these islands are actually a heck of a lot closer to Taiwan than they are to the Japanese mainland, so you can enjoy pretty comfortable temperatures all year round. Even though we visited in November, well after northern Japan's temperature had started to plummet, we were still able to comfortably sunbathe and swim in the ocean.
First up was Miyakojima. We decided to pack our camping gear and set up our tent each night on various beaches on the main island and also Kurima Island (connected by bridge). This not only saved us a lot of money, but it was really special waking up to the waves lapping just a few meters away. We even got to witness some fireflies hanging out with us one evening!
Miyako was stunning for its abundant sea life, postcard-like landscapes, limestone caves, and some of the richest sunsets I have witnessed. Here are a few of my favourite shots from the area.
Some of the snorkelling from our first day. Unfortunately this was to be our only possible day of snorkelling as the weather turned rather quickly due to an off-shore typhoon 🙁
Our first night's campsite!
One of the limestone caves we found (again, thanks to Ippei & Janine!)
Although you can't tell from some of the above photos, the strong winds from the incoming typhoon were almost enough to bowl us over! Hence we spent a fair bit of time driving around seeing all the island's hotspots.
A brief morning of sun before our onward flight (typical!)
From here, after a brief overnight stop in Naha to catch up with a friend, sample the local cuisine and sing FAR too much karaoke, we nursed our hangovers all the way to Ishigaki Island. After picking up another rental car, our first stop was the jewel of Ishigaki – Kabira Bay.
Unfortunately by this stage the weather was really turning, so we (kind of) reluctantly retired the tent and checked ourselves into a hotel (hot shower! Yes!) for the next few nights.
Luckily for us, there was plenty of rainy-day activities on offer, so we headed inland to walk a few nature paths, as well as stream-trekking to some waterfalls, more caves, a drive out to the lighthouse, and a hike to a lookout point in Banna Park.
One of the best things we did was take a day trip to nearby Iriomote Island. This largely undeveloped island is actually the second-largest island in Okinawa, yet it remains wildly overgrown with over 90% of its land being covered by dense forest and mangroves.

This makes it a perfect haven for adventure lovers, with many tour companies offering guided hikes, kayaking and boat tours.
We chose a local guide to take us to Nakara waterfall, a location accessible only via 2 hour kayak trip and 30 minute rainforest hike. It is essential to have your own guide in these parts, as the mangroves are constantly winding and we didn't actually pass anyone else for a good hour or so into our journey. Our guide Nao-san was often pointing out many different species of fascinating wildlife during our kayak ride, and even showed us tracks where wild boar had been digging for food just hours earlier.
After arriving at the waterfall, our wonderful guide even made us a hot lunch! Legend!
After a minor mishap on the way back to port (the kayak trailer axle snapped mid-drive in the middle of the road – in the pouring rain!) we were on our way back to Ishigaki with one last day to spend before flying home.
Of course the rain had truly set in by now with a second (!!!) typhoon now approaching, so we spent the day eating our way around town and visiting the indoor markets.
Our time in Okinawa was truly magical, and we are already planning a return trip (with hopefully better weather and more snorkelling time!)

I hope you enjoy looking through these photos as much as I enjoyed taking them!